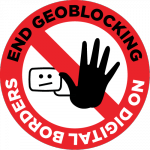 Reacting to today's presentation of a Portability regulation by the European Commission, Julia Reda, Pirate Party MEP and a Vice President of the Greens/EFA group, states:
"The proposed Portability regulation only fixes the cross-border access problems of some of the people under very specific circumstances: Those who already have Sky or Netflix subscriptions and want to enjoy them while temporarily abroad. For these instances, the regulation is well-designed and should be adopted swiftly.
We need more than just roaming for Netflix! Tweet this!
However, geoblocking is a problem that most adversely affects those who need access to services that aren't offered in their home countries in the first place, such as linguistic minorities or permanent migrants. This regulation won't allow them access to culture and knowledge in their language of preference or from their countries of origin. To them, it is incomprehensible that digital borders in the EU should remain harder to overcome than physical ones. The Commission's actions must go beyond roaming for Netflix."
On the copyright reform Communication released at the same time, Julia Reda comments:
"I welcome the Commission's pledge to re-examine the issue of freedom of panorama after more than half a million Europeans signed a petition this summer joining me in demanding the right to freely use photos of public buildings all across the EU. I call on the Commission to follow through and introduce this as a pan-European copyright exception."
"The restrictive way the Commission plans to implement the much-needed Text and Data Mining exception, meant to remove barriers to applying modern research methods, might actually make matters worse, especially for independent researchers and startups. The right to datamine content should follow automatically from the right to access such content, not be an additional privilege restricted to 'public interest research organisations'."
"The Parliament explicitly rejected calling for an ancillary copyright law for press publishers – a 'Google snippet fee' – in the Reda Report. It's unjustifiable to see this misguided idea, which backfired in Germany and Spain, pop up yet again in the Commission's plans. Commissioner Oettinger has to realise: You can't fix a bad idea by implementing it more widely."
"The further copyright reform plans remain unambitious, a far cry from Juncker's original directions to 'break down national silos' in copyright. They address just a fraction of the Parliament's demands: The Commission is dragging its feet on introducing minimum standards for user rights across the EU and not even considering important demands such as giving libraries the right to lend ebooks just like physical books or protecting content that belongs to the public from falling under copyright again when it's digitised."
To the extent possible under law, the creator has waived all copyright and related or neighboring rights to this work.