A few days ago, about a dozen articles and campaign sites criticising EU plans for copyright censorship machines silently vanished from the world's most popular search engine. Proving their point in the most blatant possible way, the sites were removed by exactly what they were warning of: Copyright censorship machines.
Among the websites that were made impossible to find: A blog post of mine in which I inform Europeans about where their governments stand on online censorship in the name of copyright and a campaign site warning of copyright law that favors corporations over free speech.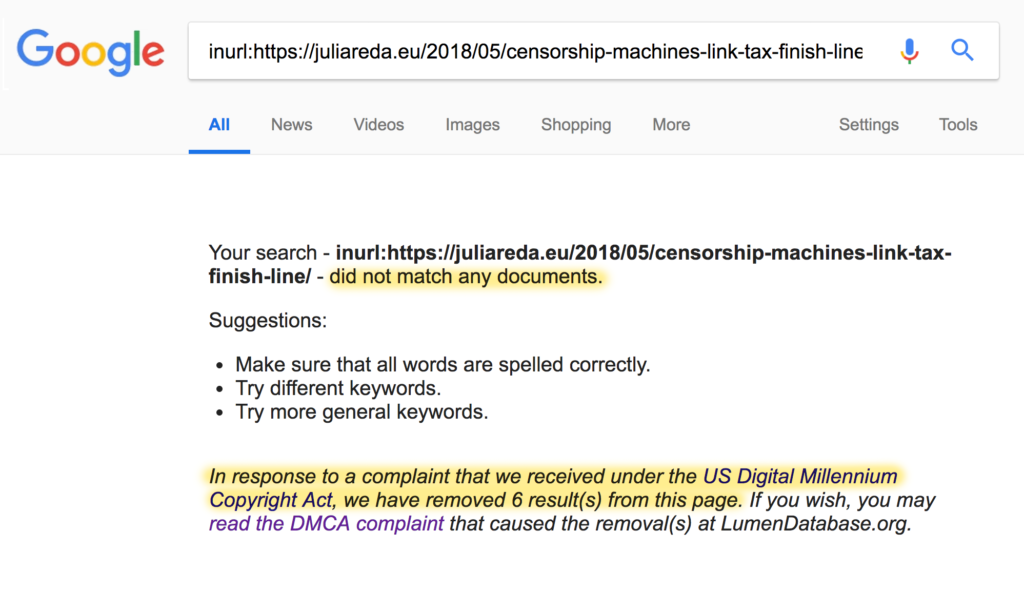 Was this a brazen attack on open, democratic debate by someone in the media industry, abusing copyright enforcement tools in an attempt to silence those opposing their lobbying interests – or was it an unbelievably coincidental technical mistake?
One thing's for certain: This incident gives us a chilling taste of what we're in for if the European Parliament passes the upload filter law currently under consideration. It's a call to arms to continue fighting against automated copyright filters. We know now better than ever: They invariably lead to censorship. Join the Europe-wide protests on August 26!
Today's "copyright censorship light" is bad enough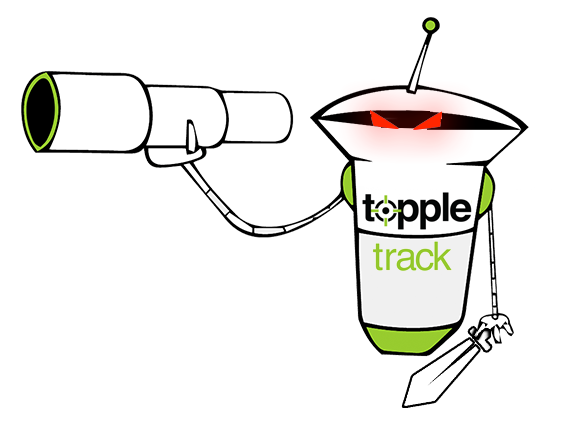 Under current US law, Google allows a number of companies to directly and without oversight remove sites from its search index, based purely on the claim that copyrights are being infringed. In effect, a handful of media companies have control over what we can – and can't – find online.
One of them is Symphonic Distribution, who offer a service called "Topple Track" . This service sent a notice to Google on July 22 falsely claiming that my blog post and a number of other sites were somehow infringing on the copyright of an Australian TV starlet. Automated systems at Google honored the claim and delisted the pages, sight unseen.
If humans had been involved at any point in this process, the absurdity – or maliciousness – of this request would have immediately been spotted. But they weren't. There are no checks and balances in place. Copyright enforcement has been automated, and no system either at services like Topple Track or at platforms like Google is able to prevent even such blatant mistakes – or such blatant abuse.
Topple Track boasts that they've removed over 7 million links from search engines for their music industry clients, and that 99% of their removal requests were honored. With their service now exposed to be so obviously dysfunctional, it's unknowable how many more of these takedowns were fraudulent, and how many more articles are wrongly "shadowbanned" from the internet without their authors even being aware.
After the EFF uncovered further fraudulent removals by Topple Track and TorrentFreak covered the story, Google reportedly terminated its trusted partnership with the company. But still, as of this writing, my blog post remains unlisted on Google Search. Incredibly, not even when a company is exposed for issuing abusive takedowns are the websites they've previously ordered removed reinstated. Each individual author must actively put up a fight to restore the findability of their free speech. (Update: The page seems to be back in the Google index now.)
EU plans would make this much worse
On September 12, the EU Parliament will vote (one more time) on whether to force internet platforms to install upload filters.
With upload filters, platforms won't even wait for complaints by media companies to remove your posts. Instead, your expression won't even go online in the first place unless it passes a check against databases submitted by media companies. And you can be sure that these databases will be just as filled with junk and fraud.
Upload filters would give media companies even more direct control over the internet. All of us who post and upload content will be considered guilty until proven innocent, while media companies will continue to face no consequences for abusing the system. There's no doubt what they would lead to: Even more censorship.
EU lawmakers must learn from this incident – and from the countless other documented failures of automated filtering: Automated copyright enforcement doesn't work. Upload filters severely threaten our freedom of speech. They must be rejected.
You can help make that happen: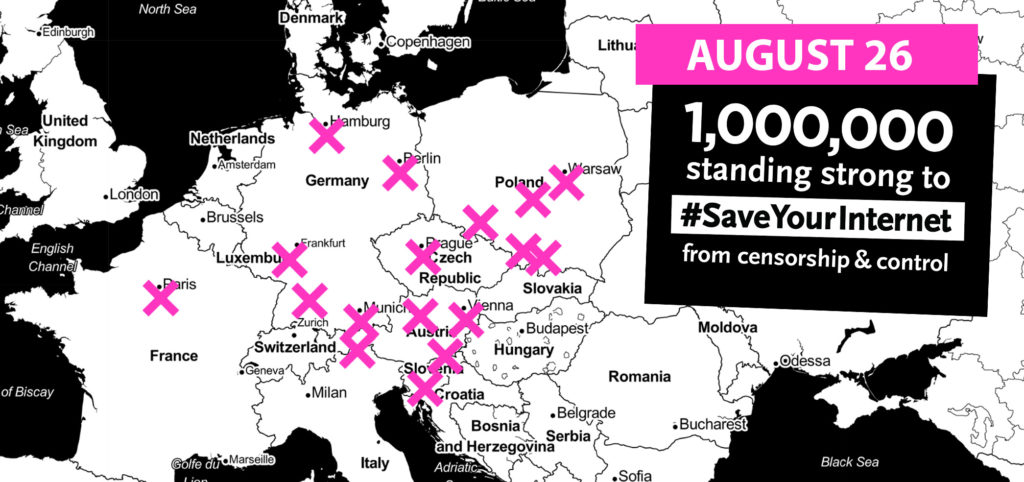 Please join the protests happening all across Europe on Sunday, August 26 to stop upload filters from becoming EU law. Check SaveYourInternet.today for information on an event near you!
To the extent possible under law, the creator has waived all copyright and related or neighboring rights to this work.