Over the past week, the people of Europe have spoken loud and clear: No to restricting freedom of panorama, no to royalties on public space.
More than 200,000 people (and counting) are supporting a petition against these ideas. 4,247 German Wikipedians signed an open letter. At least 11 professional organisations representing creators have renounced the proposal.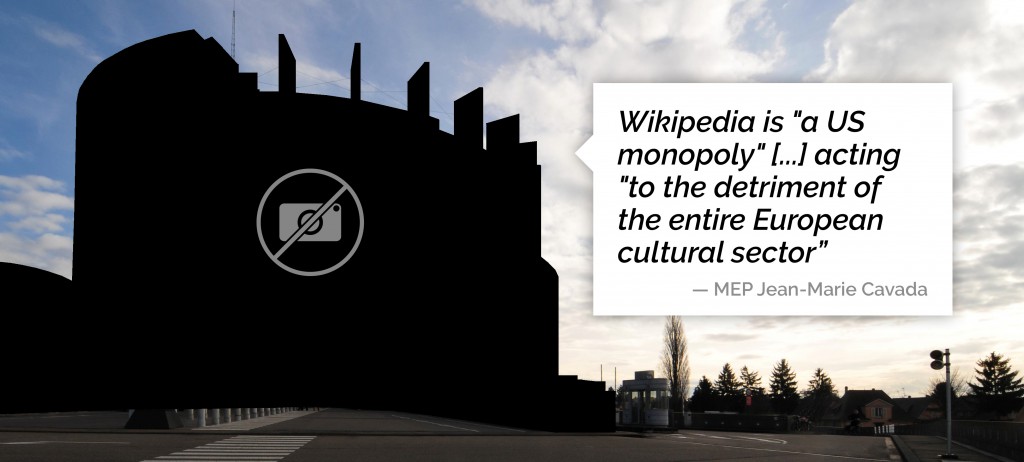 Where did this idea come from in the first place?
I've been asked many times: Beyond MEP Jean-Marie Cavada (who filed the amendment), who is really behind this attack on the rights of the public and of artists who work in public spaces? Which evil lobby concocted this plan and convinced the big political groups to vote it into my copyright report with sacks of money or ninja arguments?
If only the truth were that simple. What actually happened is, in fact, even more cause for concern: Nobody mounted a specific attack on freedom of panorama. No such effort was required.
The approval of this amendment is the logical conclusion of the stance on copyright that prevails among the majority of my colleagues. Tweet this!
They didn't specifically decide to vote against this right – they simply extended to this amendment the same attitude and convictions they apply to all copyright reform issues.
When MEPs in the Legal Affairs Committee approved this idea, they believed themselves the protectors of artists, defending creators from exploitation.
So what is at the source of this discrepancy between intent and effect?
1) They still don't get the cultural shift caused by the Internet
When they voted, many of these MEPs had in mind postcard producers getting rich off the fruits of someone else's artistic labor. They have yet to fully grasp the fundamental shift that has happened over the last decades:
Taking holiday snaps used to be a private activity untouched by copyright law: You returned home, had your photos developed and stuck them into a photo album to be shown to your close family. No lawyer would ever get to scrutinise them. But today preserving an experience involves making your creative work – which is likely to include elements of other people's works – available to the public on the global internet, using a commercial service.
Copyright today applies to us all, restricting activities that cause no harm to creators. Tweet this!
Suddenly, laws that used to apply only to the few with a printing press, a record cutter and a profit motive apply to every single one of us and threaten everday activities that cause no actual harm to rightholders.
But instead of adjusting these laws to again fit their intended purpose, politicans are outdoing each other to proclaim that "we must not weaken the protection of artists" (or their estates, given that copyright protection outlives humans by 70 years) while making criminals of all people – and the next generation of creators.
2) Internet companies must be evil
One thing some do notice about the web is: Internet companies based overseas appear to be rich, while "our" artists are – on average – as poor as they've been throughout history. Aha! Let's just get internet services to pay up for all the instances where modern people's behavior conflicts with last century's laws. Several successful amendments to my report reflect this conviction that online services are parasitic foreigners sucking the lifeblood from our precious culture.
But there is no causal relationship between these facts: Facebook's or Instagram's business model is not to take the photos that users upload and get rich off of selling prints, stealing revenue from… the architects of the buildings depicted therein (?!). They are playing the role the photo developer and the photo album maker used to play – but in providing this as an ad-supported service, they've found someone who will pay them not just once, but continuously. What they provide is still general-purpose infrastructure: They're no more "profiting unfairly off architects' works" than the electricity company powering both their server farm and the nightly recharge of their users' photo-taking devices.
3) Users vs. authors: Fight!?
The accusation most commonly lobbed at me was that my draft report sided with users, and must thus automatically be attacking artists' interests – a false dichotomy.
To supposedly mitigate this, MEPs filed dozens of amendments liberally and rather indiscriminately sprinkling phrases like "while ensuring the fair remuneration of authors" over my proposals "to restore balance".
As a result, they ended up recommending attaching a price tag to fundamental rights like the freedom of press (artists must be remunerated in return, the report now states) – or, in this case, restricing the rights of photographers and videographers who work in public spaces.
It was in this same vein that the majority rejected to cite in the report the findings of the United Nations' special rapporteur in the field of cultural rights, who told the Legal Affairs Comittee last month that far from being an attack on authors' livelihoods, exceptions and limitations to copyright in fact play a vital role in ensuring human rights, particularly the right to the protection of authorship. Her appeal fell on deaf ears.
"Protecting artists" does not just mean locking away past creations, but also enabling new ones. Tweet this!
There is no majority in Parliament for the realisation that the rights to interact with existing works are also core enablers of new art, and that "protecting artists" does not just mean securely locking away the works of those with publishing contracts, but also, crucially, enabling the filmmaker to document public space and the YouTube kid to experiment with mashups. (The Committee rejected my proposal to extend quotation rights to video bloggers and podcasters across Europe.)
Effectively, legislators are siding entirely with existing art, made by the few lucky enough to profit from yesterday's business models, at the expense of the new and independent, which modern technology and connectivity enables the many to create and share.
Imagine how confusing it must be to them that 200,000 creators are suddenly siding with my proposal over their attempt to protect them from me. I can only hope that this will trigger them to reconsider this false dichotomy, which those profiting from the status quo are tirelessly promoting.
The opposition is mounting
With their vote to restrict freedom of panorama, MEPs took the application of their outdated world view one step too far.
The Royal Institute of British Architects – representing the main beneficiaries-to-be of the proposed change – were the first to quickly denounce the plans: Thanks, but no thanks – they support the extensive freedom of panorama that currently exists in the UK.
A number of professional organisations of creators from all across Europe have joined them in rejecting the proposal:
With all this public outcry, it didn't take long for cracks to appear in the unity of each of the supporting policial groups:

The Socialists and Democrats – the second-largest Parliamentary group – were among those who approved the amendment in the Legal Affairs Comittee. Yet nine days later, British MEPs called it "a bad proposal" that "Labour MEPs are working to make sure is rejected". This plan was seconded by Austrian Social Democrat Evelyn Regner.
Germany's conservative CSU sent out a statement by their internet policy working group, calling the proposal – which their European People's Party colleagues in the Legal Affairs Committee voted for – "sheer nonsense". Austrian EPP member Köstinger also expressed her disapproval.
In the liberal ALDE group, Cavada's German colleagues of the FDP launched a campaign supporting my original proposal over the idea by their own group's spokesperson. And they didn't mince words: "The bureaucracy-addicted in Brussels have hatched a new crackpot idea", they quipped.
Only Cavada and collecting societies are digging their heels in
Jean-Marie Cavada, the person responsible for all of this, clarified his intent while digging in his heels: Users weren't in his aim, he professed on his blog – but internet platforms must certainly pay up. Which internet platforms? Well, for example Wikipedia, who he called "a US monopoly" and described as acting "to the detriment of the entire European cultural sector".
European collecting society alliances GESAC and EVA, meanwhile, are circulating a flyer full of misrepresentations demanding that MEPs stick to the attack on freedom of panorama in the upcoming plenary sitting on July 9th. It is these organisations who not just share, but fuel the world view detailed above. Wikipedia has put together a thorough debunking of their claims.
Don't blame the EU for your MEPs
Hundreds of news outlets reported on freedom of panorama over the past week, and the news is still spreading. It's great and important that the European public is informed about plans debated at the EU level – even if they're not yet draft laws, a fact that was unfortuntately too often misunderstood or misrepresented.
But then there were the yellow-press rags and right-wing populists who jumped on this opportunity to bash the European Union. I want to make it very clear: This idea was hatched by representatives elected by the people, and passed (so far) by representatives elected by the people. No shadowy bureaucrats were involved. If you want to prevent situations like this one, elect better representatives – and stay involved. We must not allow national parties to misplace the blame for their own unpopular decisions (or mistakes) on some nebulous EU strawman.
We need European integration on copyright – just not based on yesterday's models.Tweet this!
Having 28 different copyright regimes on one continent – a state valiantly defended by many MEPs in their amendments to my report – is an idea destined for the dustbin of history. The web doesn't stop at borders. We need European integration and harmonisation on copyright and other internet policy issues – just not based on models from the 20th century.
But let me end on a high note:
Thanks to your continued efforts, I'm confident we'll be able to eliminate the misguided idea to restrict freedom of panorama from the report on July 9th.
I just wish I could say the same of the thinking behind it.
To the extent possible under law, the creator has waived all copyright and related or neighboring rights to this work.