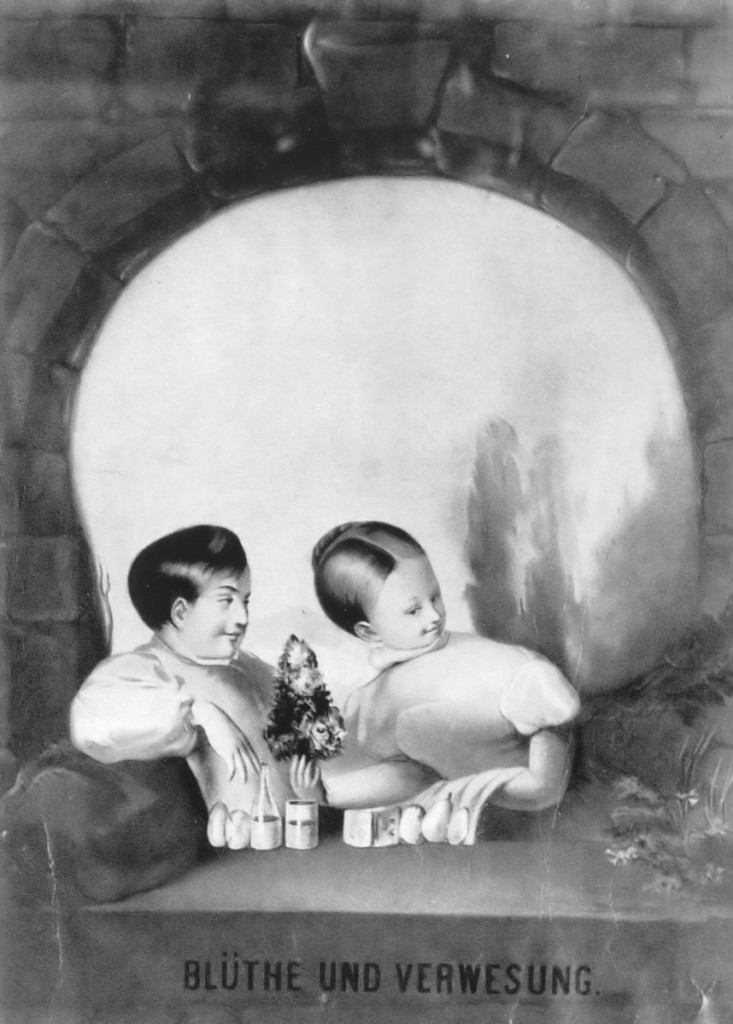 This could be the beginning of a reform of copyright which finally takes into account the needs of people in the 21st century.
–Marcin Maj, Dziennik Interautów
The losers [of the report's proposals] are European individuals […]: they lose protection over their own words and images, becoming second class global citizens …
–Andrew Orlowski, The Register
It can be summarized as "more of the same"
–Amelia Andersdotter, former Pirate Party MEP


My draft report evaluating 2001's EU Copyright Directive has been met with widespread interest, being covered by over 100 news articles in 16 countries and receiving over 70 comments on the collaborative discussion platform Discuto. If you're unfamiliar with its contents, Copy-Me.org has written an excellent summary.
It has received statements of support by digital rights organizations like La Quadrature du Net, Digitale Gesellschaft and OpenForum Europe, from interest groups like Bitkom, AMEC, FIBEP and IAB, by individual authors like Cory Doctorow – and, notably, in part by the German artist coalition "Initiative Urheberrecht".
My efforts towards transparency and participation have been widely hailed. "Juncker could learn quite a bit from this Pirate", Philipp Hacker-Walton concluded in Austrian daily Kurier.
However, many of the stronger reactions are wildly contradictory: I'm a "fringe lobbyist"1 who's "about to lead the entire EU into the digital future"2. I wrote "the most progressive offical EU document on copyright since the first cat picture was published on the web"3 and yet "Angela Merkel could not have done it [more copyright-friendly] had she tried"4.
In this blog post I'll present those reactions and argue why I think they are so disparate, followed by replies to specific arguments raised in the next post.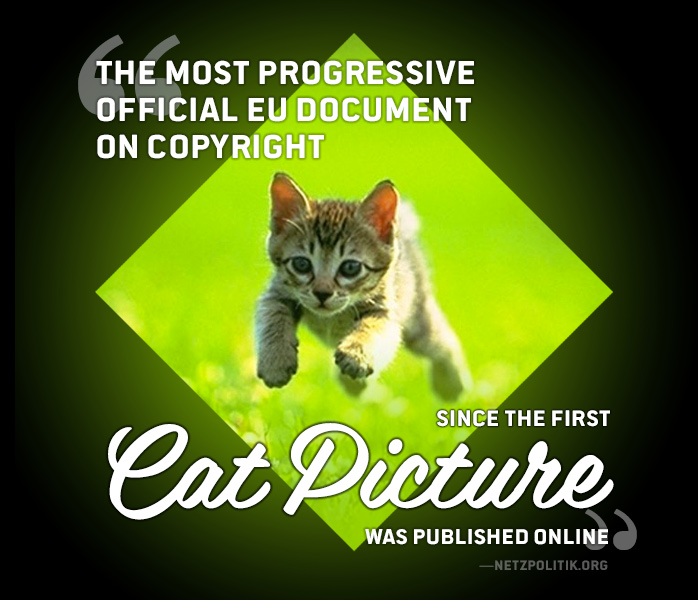 "The report is surprisingly extreme"
"It goes further … than the most pessimistic representatives of the creators had presaged"
–Isabelle Szczepanski, Electron Libre

"Extreme proposals"
–Society of Audiovisual Artists
"Her proposals remain wise, contrary to the cries of outrage from some officials during the preparation of the text."
–Jean-Sébastien Lefebvre, Contexte

"The draft now submitted by Reda has turned out diplomatic."
–Hendrik Kafsack, FAZ
"The recommendations are inconsequential"
"Her proposals for a new European copyright can be summarized as 'more of the same'"
–Amelia Andersdotter, former Pirate Party MEP
"Following years of vague statements …, it is refreshing to see that what is proposed sounds major."
–Eleonora Rosati, Copyright Law & Policy Consultant

"If this report is implemented into law, EU copyright is poised for major changes."
–Dr. Mezei Péter, Senior Lecturer for Comparative Law at the University of Szeged

"It is hugely important, because it raises in such a clear and thoughtful way most of the key problems with today's copyright."
–Glyn Moody, Techdirt.com

"reads like a wishlist of the digital rights movement adapted to what is feasible"
–Torsten Kleinz, Heise.de

"Reda obviously knows this almost Copernican revolution will be met with the strongest resistance, which is why she primarily proposes what may reasonably have a chance of success"
–Rainer Kuhlen, Information Science professor at the University of Konstanz and spokesperson of the alliance "Copyright for Education and Science" at Netzpolitik.org
"The report isn't a serious review"
"It provides no serious and scientific evaluation of the effects of the 2001 directive and no legal analysis to substantiate the changes of the law it is proposing."
–CEDC
"It's convincing" in its "professionality of presentation" and "comprehensive expertise and courage"
–Rainer Kuhlen, Information Science professor at the University of Konstanz and spokesperson of the alliance "Copyright for Education and Science" at Netzpolitik.org
"It's anti copyright"
"It is an unbalanced report which conveys an anti-copyright ideology … pursues only one objective: to dismantle the copyright framework"
–CEDC

"It involves what Pirates have always done, and that's steal"
–Richard Mollett, UK Publishers Association
"Julia Reda demonstrates that her party does not intend to destroy copyright. … A very balanced overall project … mostly, it makes common sense"
–Nicolas Gary, ActuaLitté

While some associated with the Pirate Party movement are seen as being fundamentally anti-copyright, that's not the remit of Reda's report, which does propose some sensible measures that some in the music community might quietly commend.
–Chris Cooke, Complete Music Update
"It's just the Pirate Party agenda"
"This draft report is a mere copy-paste of proposals made over the last 10 years by pirate parties and organizations in favor of an unregulated Internet."
–CEDC

"[It] represents the pirate party programme, not an assessment of the implementation of the Directive."
–Society of Audiovisual Artists

"[She] has made her Christmas wish list"
–Anne Bergman, Director of the Fédération européenne des éditeurs (FEE)
"It's amazing how much the vision of Reda is shaped by common sense rather than ideology."
–Dario d'Elia, Tom's Hardware Italia

"There is little to nothing in it that can be considered as a fulfillment of [the high] expectations."
–Amelia Andersdotter, former Pirate Party MEP
"The report is against authors"
"The world of culture as a whole deplores the proposals made by Julia Reda … It goes further in its proposal to reduce the rights of authors than the most pessimistic representatives of the creators had presaged"
–Isabelle Szczepanski, Electron Libre

"A lot of the report reflects the view that once if you've created something, I ought to be able to take it and make money from it, whether you want me to or not."
–Serena Tierney, Head of Intellectual Property at BDB Law
"[It] decisively takes the side of creatives [in calling for strengthening their negotiating position] which is sadly lacking in Junckers letter to Oettinger and can only supported from the creators' side."
– Prof. Dr. Gerhard Pfennig, Spokesperson of Initiative Urheberrecht

"[Some might commend the report] especially in the artist and songwriter community, whose interests Reda reckons she is championing where they are not in line with the corporate rights owners or big collecting societies."
–Chris Cooke, Complete Music Update
"It's against creativity as a whole"
"This report will remain unacceptable to all those who want cultural creation to remain ambitious, strong and diverse in Europe"
–CEDC
"The proposals of the Reda report can have a positive impact on creation itself, but also on research, education and access to culture."
–Lionel Maurel, la Quadrature du Net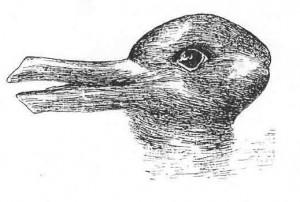 The scope of the report
Some articles have unfortunately misrepresented the scope of this report, causing confusion among those who argue for a more fundamental reform of copyright. I'm not presenting my personal ideas for copyright reform here or my party's platform, and I'm not drafting a new law: I'm tasked to evaluate the current legislation on behalf of the entire Parliament, in the course of which I'm making well-founded recommendations for reform.
In the end, every word I write needs majority support in the Parliament to have any real effect, i.e. the approval votes of at least 375 non-Pirate Party MEPs. It would be a grave mistake to make it easy for those MEPs to dismiss my proposals because of ideological disagreements or misconceptions about my party's agenda.
Also, international treaties like the Berne Convention limit our maneuvering space. That's why, for example, I can't be more ambitious on copyright terms than to propose a reduction to life + 50 years, which the convention locks us into. It's not an option to delay copyright reform until these treaties are renegotiated.
The sad state of the debate
For the last decades, changes to copyright have almost always furthered the interests and strengthened the position of publishers and distributors.
A review by the French High Council For Literary And Artistic Property of the very same directive just last month concluded, in stark contrast not only to my findings, but to those of the Commission in their consultation report, that "the very concept of a revision of the European legal copyright framework has been rejected, regardless of the types of amendments to be made to the actual legislation". It falsely equates the opinion of the collecting societies to that of all artists and does not give a second thought to users' rights or new kinds of creation. "Harmonisation and a reduction of copyright protection do not seem appropriate", they claim, instead proposing monitoring requirements, criminal liability and levies for intermediaries like search engines and social networks. This is in line with Commissioner Oettinger's comments that he's considering a Google tax.
That such an obviously one-sided document can be presented as an independent study illustrates the sad state of the EU copyright reform debate – that my draft report is already starting to change.
Beyond the old fault lines
The copyright debate has never been a battle of pirates vs. artists.Tweet this!
Prof. Kuhlen analysed that my report might be triggering a "Copernican revolution in the copyright debate" – which is exactly what we need.
Despite the industry's best efforts to portray it this way, this has never been a battle of pirates (or capital-p Pirates) vs. artists, and it will be society that loses out if we let the debate be framed that way. What appears to confuse some observers is that my draft doesn't fit neatly into these old schemes. To move forward, we need to build new alliances and focus on common interests for progress, such as the ones users, cultural institutions and many creators share.
This debate is not (just) about The Pirate Bay and Kim Dotcom, and it would be both ineffective and limiting to make it about that.
It's about reforming copyright to utilise the opportunities of the 21st century and an increasingly connected Europe. It's about stimulating, rather than hampering, the massive creative revolution brought about by technological and social progress, taking new creators and new ways of creation into account. It's about enabling public interest institutions to do their job. It's about safeguarding fundamental rights and allowing as broad access to knowledge and culture as possible. It's about taking an unmistakable stand that the job of politics is not to defend entrenched interests against progress, but to continuously find a balance between competing interests that maximises our common future benefit.
These are arguments we can build majority alliances on that can effect real change.
The proposals in my report are tame only in contrast to the extreme demands of an industry that has comfortably arranged itself with yesterday's status quo. The proposals are realistic. They're win-win. They have the support of a majority of the people. They're urgently needed. And given the state of the bogged-down copyright debate, given the history of copyright expansion at the behest of special interests, they would indeed be a revolution.
Even common-sense revolutions require a fight
It is already obvious that it will be a tough fight to defend my proposals from being watered down. Whether you'd prefer even more far-reaching reform or whether you support my exact proposals, I urge you: It's time to get involved in the debate now and make your voice heard. A single MEP cannot enact the change you desire.
There will be no "common-sense revolution" without many strong voices from multiple angles – yours included.
To the extent possible under law, the creator has waived all copyright and related or neighboring rights to this work.