On July 5 at noon, all 751 Members of the European Parliament will vote on whether to rubber-stamp the plans for upload filters and the "link tax", or send them back to the drawing board. Please call them and ask them to do the latter!
What will they vote on exactly? Here's the complete text of the draft law – below, I'll decipher the legalese and break down how Articles 11 and 13 will affect you if we don't stop it from becoming law. (Note: I've lightly edited the legal text quoted below for understandability, without changing its meaning.)
* * *
Article 11: A "link tax" with only ineffective exceptions
1. Member States shall provide press publishers with the [exclusive rights to reproduce and make available works they publish] so that they may obtain fair and proportionate remuneration for the digital use of their press publications by information society service providers.
Here's how this establishes a "link tax":
1. It would protect even smallest snippets
Copyright protects creativity: A work needs to meet a "threshold of originality" to be protected. This law does not establish a new copyright in that sense (belonging to an author), but a "neighbouring right" (belonging to the publisher) – and for those, no such threshold applies.
Since no other threshold is established in the law, it would cover even shortest snippets and purely factual headlines like "Angela Merkel meets Theresa May".
2. Links routinely include such snippets
Links that don't tell you where they take you make as little sense as blank signposts. That's why links are routinely illustrated with a short extract of the content they point to – most often the title.
Similarly, when you paste a web address into services like Facebook, Twitter or Reddit, they add a thumbnail-sized image and half a sentence from the article's contents. They don't do this to steal that content, but to advertise it: It makes the link more likely to be clicked. In fact, site owners spend a lot of effort making sure these little previews look just the way they want them to.
If Article 11 enters into force, publishers will have an exclusive right to publish such extracts, and thus such links. Everyone else will need to negotiate a license with them.
(But is it justified to call it a "tax"? "Snippet licensing obligation" would be more precise, but that's hardly understandable to a layperson. And publishers hope it will function like a tax: Publishers don't want this licensing obligation to result in fewer snippets, just in additional payment for their use. To that end, the text says in Recital 32: "The listing in a search engine should not be considered as fair and proportionate remuneration": They don't want search engines to be able to claim that the service of making news articles findable is appropriate payment for snippets used in the course of doing so.)
Ineffective exceptions
1a. [This article] shall not prevent legitimate private and non-commercial use of press publications by individual users.
While the EU Commission wanted everyone to pay for snippets, including individuals, the Legal Affairs Committee wants to limit this to internet platforms.
But of course, such platforms are what individuals use to share news articles today. Hardly anyone runs their own blog: Our profiles on commercial sites are, for better or worse, where we express ourselves.
This law means that platforms will need to stop us from sharing links (with snippets) that they have not negotiated a license for. That will effectively limit our ability to legitimately and for our own private and non-commercial purposes talk about the news of the day with our friends.
It's illusory to believe that all platforms will just take out licenses from all news sources for all EU countries. That's a near-impossible feat. It's much more likely that this law will create a new layer of geoblocking, with error messages like this: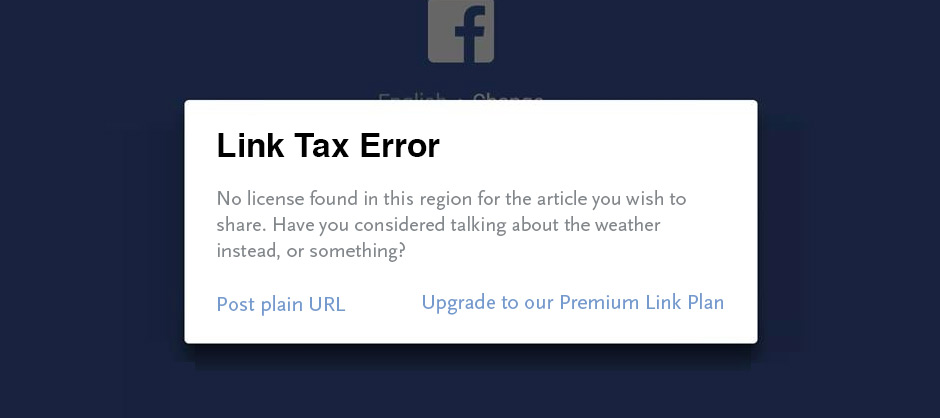 Those affected the worst will be people living in small member states and those wanting to link to less well-known sources – discriminating people based on their country and harming media pluralism.
2a. [This article] shall not extend to acts of hyperlinking.
As explained above, what we colloquially call a "link" includes a snippet. Nowhere in this nor any prior EU law does it say that an "act of hyperlinking" covers the reproduction of a snippet, or even just a headline. The European Court of Justice has made no such decision. So it doesn't.
This exception allows you to publish links like this one: "Click here to read a BBC article about this law" – but not the ones you are used to sharing with friends on the web today. It's window dressing meant to calm the public.
(34) Member States should be able to subject the right to the same provisions on exceptions and limitations as [copyright]
Multiple problems undermine this provision: First of all, it's optional, so it will lead to wildly different implementations in Europe – another failure for a law that in its title claims to be about the "Digital Single Market".
Second of all, there's no "snippet exception" in copyright law. Some kinds of snippets, in some contexts, may be covered under the quotation exception in some member states. But in many, a "quote" means something more akin to a reference in a scientific paper, than to a snippet shared to a social network profile: It needs to be part of a larger copyrighted work, which needs to critically engage with the quoted extract. Many links don't meet these criteria. To give another example: The French quotation exception doesn't apply to pictures, so it wouldn't allow for thumbnail images in snippets.
These exceptions are ineffective and won't allow us to continue to freely hyperlink.
Conclusion:
Article 11 in the version currently before Parliament will severely limit an everyday action on the web: Sharing links to the news. The criticisms voiced by Europe's leading academics of IP law stand, as they themselves have confirmed: There's no economic basis for this new right, it will impede the free flow of information, it won't help journalists and will harm small publishers. MEPs should not approve it.
Call your MEP now to ask them to refuse to rubber-stamp Article 11 on July 5
* * *
Article 13: Upload filters, shoddily hidden
Let's start off with who Article 13 applies to:
2. 4a. 'Online content sharing service' means a [web] service one of the main purposes of which is to store and give access to the public to copyright protected works uploaded by its users, which the service optimises.
(37a) ... [services that] optimise content, including amongst others promoting, displaying, tagging, curating, sequencing the uploaded works ...
In other words: Article 13 applies to every platform with an upload form and every app with a "post" button.
Note that "copyright protected works" does not mean "copyright infringing works" – just works that are covered automatically by copyright, like text, photos and videos. That means pretty much all posts and uploads. And when you define "optimising" uploads as including even "displaying" them, that doesn't narrow things down either.
But wait: The next sentence goes on to define narrow exceptions for Wikipedia, GitHub, eBay, certain scientific repositories and private cloud storage sites (but they better not have a "share" function). These exceptions don't follow any particular logic, they are just intended to placate the law's loudest critics so far – but what about all platforms whose users were not following the EU lawmaking process this closely, or that are even yet to be founded?
1a. [...] Online content sharing service providers perform an act of communication to the public and shall conclude fair and appropriate licensing agreements with rightholders [...]
In a radical move that goes beyond the Commission proposal, the Legal Affairs Committee wants to make platforms directly liable for copyright infringements by users. That's an existential threat to all internet platforms that allow posts or uploads.
By defining that platforms – and not their users – are the ones "communicating" uploaded works "to the public", they become as liable for the actions of their users as if they had committed them themselves. Let's imagine a company that makes an app for people to share videos of their cats. If even one user among millions uses the CatVideoWorld3000 app to record a Hollywood movie off a theater screen rather than their kitty, that'd be legally as bad as if the business' employees had committed the copyright infringement themselves intentionally to profit off of it. The Pirate Bay, MegaUpload and Napster were all much more innocent than any site with an upload form will now be in the eyes of the law.
In order to fully comply with the obligation to "conclude licensing agreements with rightholders", platforms would need to preemptively get licenses for all copyright-protected works in the world. Not even a giant like Spotify manages to license all music, and that's much easier than licensing, for example, all photos that exist in the world, or all creative writing. It's plainly impossible.
In the absence of licensing agreements online content sharing service providers shall take appropriate and proportionate measures leading to the non-availability of copyright or related-right infringing works, while non-infringing works shall remain available.
We've established that the "absence of licensing agreements" will be the standard case, applying to almost all posts and uploads on the internet. No platform will be able to guarantee that all user uploads will fall under whatever licensing agreements they may have in place – so all platforms will need to do what this clause says.
Now, what is meant by "measures leading to the non-availability of copyright infringing works"? Another passage gives a clue:
(38) [...] measures to ensure the protection of works uploaded by their users, such as implementing effective technologies.
So we get "effective technologies" "leading to the non-availability" of unlicensed works. It's clear that this means upload filters that check each uploaded file for infringements before it is allowed to go online.
These filters are bound to block legitimate acts of expression (including, but by no means limited to memes) because they can't tell apart valid uses like quotation from infringement.
The law may say "non-infringing works shall remain available", but if not blocking something makes platforms directly liable, and blocking it can lead, at worst, to a user complaint, it's obvious which side they'll err on. Expect error messages like these: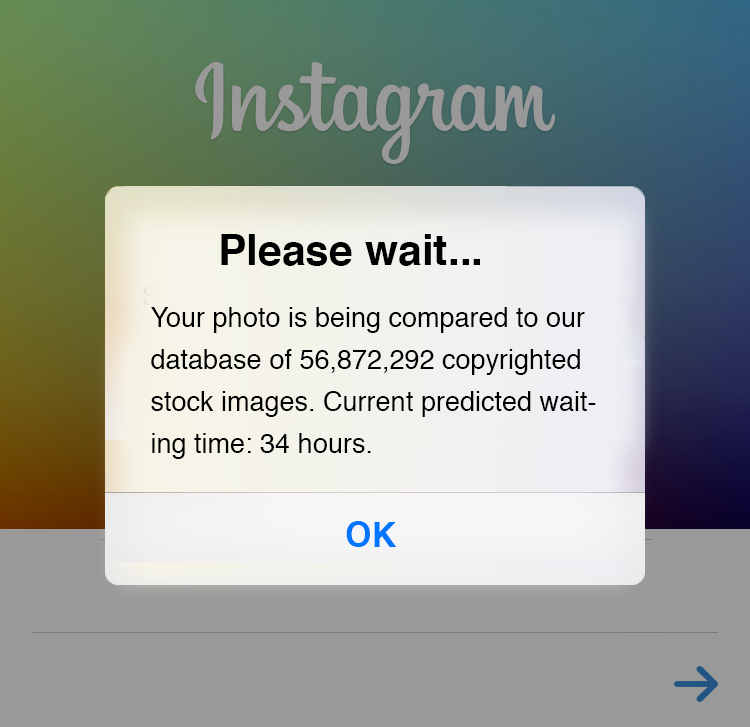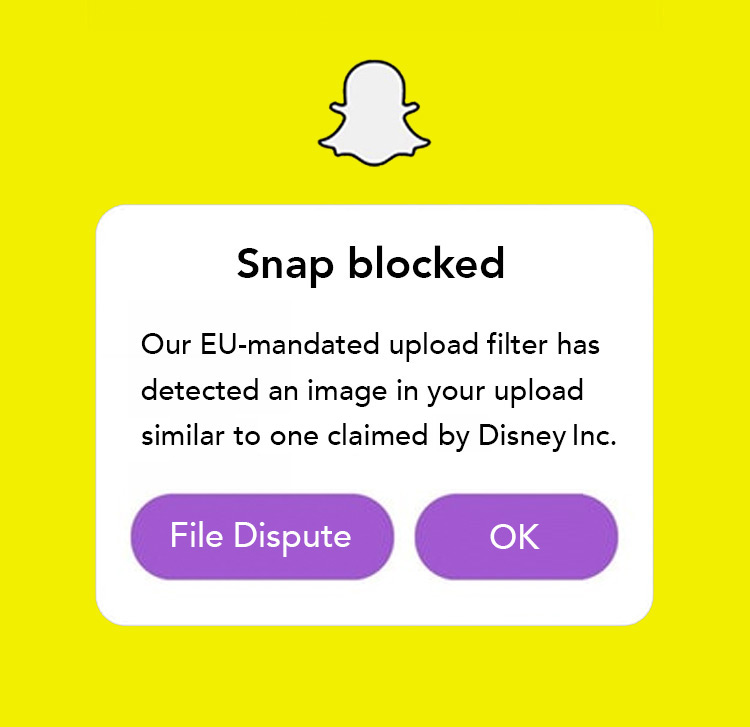 In a final giveaway, the 15 MEPs on the Legal Affairs Committee who voted for this also voted another amendment in, which they forgot to similarly scrub:
(39c) The content recognition technologies market is well developed already [...] However, the absence of clear legal obligations to use these technologies enables dominant market operators to refuse to use those tools [...]
That makes it undeniable: Establishing "clear legal obligations to use" "content recognition technologies" remains the purpose of Article 13.
But wait, there's something that sounds like a safeguard:
1b. Members States shall ensure that the implementation of such measures [...] shall in accordance with Article 15 of [the E-Commerce Directive], where applicable not impose a general obligation on online content sharing service providers to monitor the information which they transmit or store.
"No general monitoring" would mean no upload filters. But before you get your hopes up, notice that only counts where the liability limitations established in a prior law, the E-Commerce Directive, apply. And:
(38) Online content sharing service providers [...] cannot benefit from the liability exemption provided for in Article 14 of the E-Commerce Directive.
So if a service falls under Articles 14 & 15 of the E-Commerce Directive (which refer to each other), it doesn't need to monitor. But also, services accepting uploads don't fall under it. These passages just mean that pure hosting providers (webspace/server providers) don't need to surveil their users – web services that allow posts or uploads will need to.
Conclusion:
Despite using less scary language, Article 13 as it is before the European Parliament still establishes exactly the "censorship machines" the inventor of the World Wide Web called "an unprecedented step towards surveillance and control". Independent academics concur that this is the case. MEPs should not approve it.
Taken together with the crushing liability for any infringement that may accidentally slip through, it'd be a surprise if any post or upload not specifically rubber-stamped by Hollywood or the music industry makes it past the filters platforms will need to implement. The internet will increasingly come to resemble cable TV, where a few big players control what goes on air.
Call your MEP now to ask them to refuse to rubber-stamp Article 13 on July 5
To the extent possible under law, the creator has waived all copyright and related or neighboring rights to this work.