Today, 83 Members of the European Parliament from six political groups signed the following letter to the European Commission:
Reform of copyright law in the European Union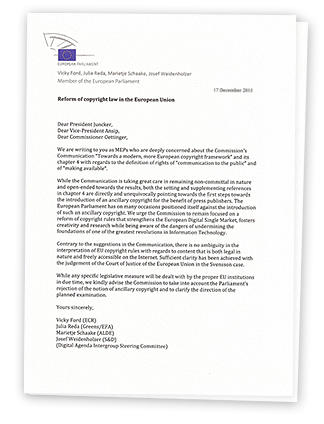 Dear President Juncker,
Dear Vice-President Ansip,
Dear Commissioner Oettinger,
We are writing to you as MEPs who are deeply concerned about the Commission's Communication "Towards a modern, more European copyright framework" and its chapter 4 with regards to the definition of rights of "communication to the public" and of "making available".
While the Communication is taking great care in remaining non-committal in nature and open-ended towards the results, both the setting and supplementing references in chapter 4 are directly and unequivocally pointing towards the first steps towards the introduction of an ancillary copyright for the benefit of press publishers. The European Parliament has on many occasions positioned itself against the introduction of such an ancillary copyright. We urge the Commission to remain focused on a reform of copyright rules that strengthens the European Digital Single Market, fosters creativity and research while being aware of the dangers of undermining the foundations of one of the greatest revolutions in Information Technology.
Contrary to the suggestions in the Communication, there is no ambiguity in the interpretation of EU copyright rules with regards to content that is both legal in nature and freely accessible on the Internet. Sufficient clarity has been achieved with the judgement of the Court of Justice of the European Union in the Svensson case.
While any specific legislative measure will be dealt with by the proper EU institutions in due time, we kindly advise the Commission to take into account the Parliament's rejection of the notion of ancillary copyright and to clarify the direction of the planned examination.
Yours sincerely,
Vicky Ford (ECR)
Julia Reda (Greens/EFA)
Marietje Schaake (ALDE)
Josef Weidenholzer (S&D)
(Digital Agenda Intergroup Steering Committee)
Co-signatories
Isabella Adinolfi (EFDD)
Jan Philipp Albrecht (Greens/EFA)
Max Andersson (Greens/EFA)
Petras Auštrevičius (ALDE)
Brando Benifei (S&D)
Izaskun Bilbao Barandica (ALDE)
David Borrelli (EFDD)
Klaus Buchner (Greens/EFA)
Reinhard Bütikofer (Greens/EFA)
Matt Carthy (GUE/NGL)
Dita Charanzová (ALDE)
Miriam Dalli (S&D)
Karima Delli (Greens/EFA)
Daniel Dalton (ECR)
Fabio De Masi (GUE/NGL)
Pascal Durand (Greens/EFA)
Stefan Eck (GUE/NGL)
Bas Eickhout (Greens/EFA)
Cornelia Ernst (GUE/NGL)
Fredrick Federley (ALDE)
Laura Ferrara (EFDD)
Gerben-Jan Gerbrandy (ALDE)
Lidia Geringer de Oedenberg (S&D)
Sven Giegold (Greens/EFA)
Antanas Guoga (ALDE)
Thomas Händel (GUE/NGL)
Marian Harkin (ALDE)
Rebecca Harms (Greens/EFA)
Martin Häusling (Greens/EFA)
Heidi Hautala (Greens/EFA)
Maria Heubuch (Greens/EFA)
Benedek Jávor (Greens/EFA)
Iosu Juaristi Abaunz (GUE/NGL)
Kaja Kallas (ALDE)
Petra Kammerevert (S&D)
Ska Keller (Greens/EFA)
Jeppe Kofod (S&D)
Kateřina Konečná (GUE/NGL)
Dietmar Köster (S&D)
Merja Kyllönen (GUE/NGL)
Philippe Lamberts (Greens/EFA)
Marju Lauristin (S&D)
Andrew Lewer (ECR)
Sabine Lösing (GUE/NGL)
Ulrike Lunacek (Greens/EFA)
Curzio Maltese (GUE/NGL)
Jiří Maštálka (GUE/NGL)
António Marinho e Pinto (ALDE)
Emma McClarkin (ECR)
Martina Michels (GUE/NGL)
Alessia Mosca (S&D)
Victor Negrescu (S&D)
Miroslav Poche (S&D)
Jozo Radoš (ALDE)
Evelyn Regner (S&D)
Michel Reimon (Greens/EFA)
Terry Reintke (Greens/EFA)
Michèle Rivasi (Greens/EFA)
Bronis Ropė (Greens/EFA)
Judith Sargentini (Greens/EFA)
Helmut Scholz (GUE/NGL)
Molly Scott Cato (Greens/EFA)
Jordi Sebastià (Greens/EFA)
Davor Škrlec (Greens/EFA)
Alyn Smith (Greens/EFA)
Igor Šoltes (Greens/EFA)
Martin Sonneborn (NI)
Barbara Spinelli (GUE/NGL)
Bart Staes (Greens/EFA)
Catherine Stihler (S&D)
Dario Tamburrano (EFDD)
Indrek Tarand (Greens/EFA)
Josep-Maria Terricabras (Greens/EFA)
Estefanía Torres Martínez (GUE/NGL)
Helga Trüpel (Greens/EFA)
Claude Turmes (Greens/EFA)
Ernest Urtasun (Greens/EFA)
Bodil Valero (Greens/EFA)
Monika Vana (Greens/EFA)
Sophie in 't Veld (ALDE)
Cecilia Wikström (ALDE)
Gabriele Zimmer (GUE/NGL)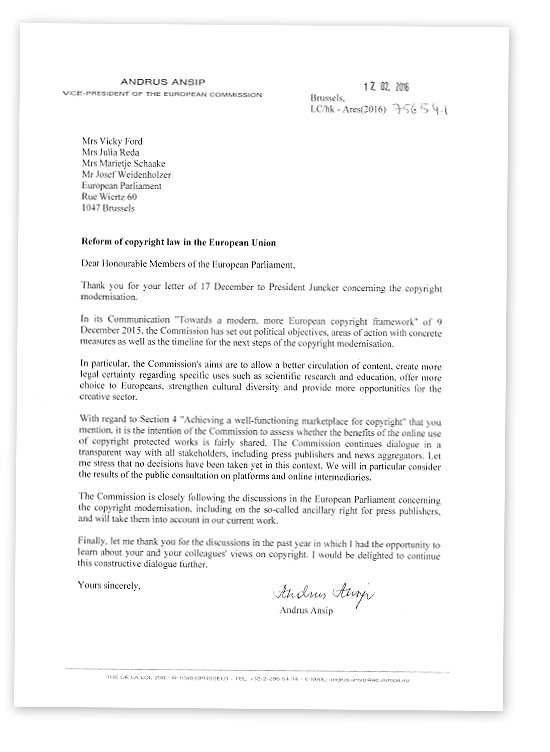 Update Feb 12: Response
On February 12th, Vice-President Ansip replied:
Let me stress that no decisions have been taken yet in this context. We will in particular consider the results of the public consultation on platforms and online intermediaries. The Commission is closely following the discussions in the European Parliament […] and will take them into account (Read full letter→)
Unfortunately, the platforms consultation was deeply flawed as regards ancillary copyright for press publishers: Only people who first indicated that they were rightsholders were even presented questions specifically related to this topic – all but guaranteeing that the results would be one-sided.
That is why the SaveTheLink campaign created its own tool asking users just a few straightforward questions related to the consultation, including one on ancillary copyright. They then submitted the 10,599 responses they received to the Commission. Worryingly, these responses were not analyzed in the Commission's initial "brief results" summary. After I raised concerns, the Commission however assured me (and added to the summary) that "they will nevertheless form part of the final, comprehensive assessment."
I will be holding the Commission accountable to take the full spectrum of voices into account in its policymaking. On the idea of a "snippet fee", these voices amount to a resounding rejection.
To the extent possible under law, the creator has waived all copyright and related or neighboring rights to this work.