The Digital Agenda Intergroup invites you to an event co-hosted by MEP Eva Maydell (Paunova) [EPP], MEP Brando Benifei [S&D] and MEP Julia Reda [Greens/EFA]
When? Thursday, 9 March 2017, 09:00-12:20
Where? ASP 1G3, European Parliament, Brussels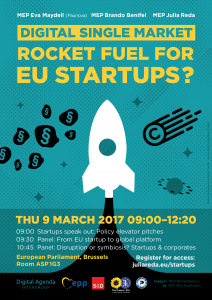 Creating opportunities for startups to innovate, contribute to economic growth and create jobs in Europe is one of the stated goals of the European Commission's Digital Single Market initiative. At this event, we will put startups and their requirements in the spotlight. Founders, representatives and analysts will evaluate and discuss the impact of the planned policies, including the copyright reform currently hotly debated in the Parliament.
agenda:
09:00 Opening remarks by MEP Eva Maydell
09:10 Policy elevator pitches by startups
• Factmata (UK) AI-based fact checking of news
• MuseScore (Belgium) sheet music creation and and publishing
• pCloud (Bulgaria) cloud storage
• Spazio Dati (Italy) big data and machine learning
• Menéame (Spain) social news discussion
• BrandLand (Italy) fashion
• Ubermetrics (Germany) media intelligence
09:30 From EU startup to global platform
Panel debate moderated by MEP Julia RedaHow can we enable EU startups to compete globally and grow into international platforms?

• Lenard Koschwitz, Director Public Affairs, Allied for Startups
• Martin Senftleben, Professor of Intellectual Property, VU University Amsterdam
• Laura Dunne, Senior Policy Manager, SoundCloud
• Maximilian Strotmann, Member of Cabinet, Commission Vice President for the Digital Single Market Andrus Ansip


10:45 Disruption or symbiosis? Startups and existing market players
Panel debate moderated by MEP Brando BenifeiWhat is the impact of startups on existing market players: When is it mutually beneficial and when disruptive? How would the DSM package's proposed laws affect the balance?

• Simona Bielli, Startup Europe Partnership
• Colin Sullivan, Counsel, Patreon
• Sanaea Daruwalla, General Counsel, NewsWhip
• Hauke Gierow, Editor, Golem.de
Please RSVP to julia.reda-office@europarl.europa.eu. If you do not have access credentials to the European Parliament, please make sure to submit: Full name, date of birth, type of ID (passport/national ID card) and ID document number.
See also our Facebook event (but please RSVP via email!)
To the extent possible under law, the creator has waived all copyright and related or neighboring rights to this work.