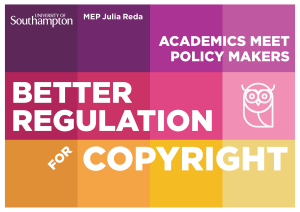 The goal of "better regulation" obliges the EU to base its actions on evidence and a full understanding of the impacts. To apply these principles to the ongoing legislative initiatives on copyright and related policy fields, academic experts are visiting the Parliament for a fact-based debate curated by the Institute for Law and the Web (ILAWS) at the University of Southampton, UK.
Wednesday, 6 September 2017, 15:00–18:30
ASP1G3, European Parliament, Brussels
Keynote by Commissioner Mariya Gabriel
Panel debates:
Neighbouring right for publishers

Merili Oja
Counsellor for Judicial Affairs at the Permanent Representation of Estonia to the EU
Stef van Gompel
Senior Researcher, University of Amsterdam – Institute for Information Law (IViR), NL
Dr Eleonora Rosati
Associate Professor in Intellectual Property Law, University of Southampton, UK
Prof Dr Thomas Höppner
Partner at Hausfeld in Berlin, specialising in EU and German competition law and intellectual property law, professor of business and IP law at Technical University Wildau, visiting professor of law at University of Strathclyde, Glasgow, UK

Platform liability

MEP Axel Voss (EPP)
Rapporteur for Copyright in the Digital Single Market in the JURI committee of the European Parliament

Dr Sophie Stalla-Bourdillon
Associate Professor in Information Technology/Intellectual Property Law, Director of Ilaws & iCLIC, University of Southampton, UK
Dr Giuseppe Mazziotti
Assistant Professor in Intellectual Property Law, Trinity College Dublin, IE
Tito Rendas
Lecturer and Ph.D researcher in Copyright Law, Universidade Católica Portuguesa – Faculdade de Direito (Lisbon); LL.M., Harvard Law School (Cambridge, MA), UK

Copyright on data

Giuseppe Abbamonte
Director for Media Policy, European Commission, DG CONNECT – Communication Network, Content & Technology
Ana Ramalho
Assistant Professor of Intellectual Property Law, International and European Law, Faculty of Law at Maastricht University, NL
Valerie Laure Benabou
University of Aix-Marseille, member of the CDE research center, FR
Bernt Hugenholtz
Professor of Intellectual Property law, Institute for Information Law, University of Amsterdam, NL
Panelists will include copyright rapporteur MEP Axel Voss, representatives from the Commission and the Estonian Presidency, as well as academics selected by ILAWS.
Please join us to deepen the dialogue between academia and the European institutions!
We kindly invite you to RSVP to sebastian.raible@ep.europa.eu. Travel subsidies may be available for interested academic visitors.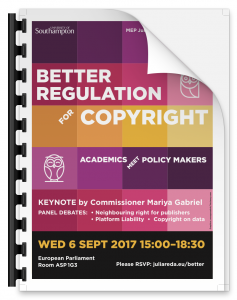 You can now download the Better Regulation on Copyright – Academics Meet Policy Makers Proceedings (PDF).
A live stream will be available during the event, as well as a recording later.
Also see the event on Facebook – but joining it does not serve as registration!
To the extent possible under law, the creator has waived all copyright and related or neighboring rights to this work.